The hub has some very nice colleagues who has rendered help to him at various occasions. So last nite when I wanted to de-stress myself from the pressure of upcoming tests (both my son and my students), I decided to make some huat kueh for them to show my appreciation. Also to ask them to be my guinea pig...haha
I wanted to try new flavours and since the whole bunch of them love their coffee (including the hub), I decided to experiment with instant coffee mix.
Now the basic recipe is not something new. I have feedbacks from some readers who attempted my previous huat kueh recipes and went to further research on other's recipes so that I can obtain that moist texture without having the sticking to the teeth situation. I adapted my recipe from the Sunkist Huat Kueh that Sophia Tan of Baking Corner (Facebook). The original recipe can be found
here
.
This is a relatively simple recipe with a few ingredients but the aroma of the coffee is simply heavenly. The kueh is moist but does not have the usual sticky feeling that sometimes happens in rice flour huat kueh.
For this round, I used the Owl brand coffee (brown sugar flavour). You can choose an instant coffee mix of your choice.Now, I would suggest here that you use good, strong coffee and not those coffee that have very light coffee taste. It will make a difference in the taste in the kueh!
Here's the recipe...
Kopi Huat Kueh (Makes 6 big muffin-sized kueh)
Recipe Adapted from Sophia Tan of Baking Corner (Facebook)
250g self-raising flour
1.5 packet instant coffee mix (can increase to 2 packets if you prefer a stronger kopi taste)
220ml hot water
85g raw sugar
50g cooking oil
1 tsp baking powder
Directions
In a bowl or large cup, mix the instant coffee mix and water until all dissolved. Set aside to cool. You can do this step first before measuring the other ingredients so that the coffee will be cooled more or less by the time you are ready to proceed to the next step.
When coffee is cooled, mix the coffee and sugar in a large mixing bowl until all the sugar is dissolved.
Add in the oil and mix until combined.
Sift in the flour and baking powder and mix well.
Transfer the batter into pre-lined cups and steam in a pre-heated steamer or wok for 20 mins over high heat. The water must be bubbling hot when you put in the cups.
When the kueh is done, off the heat and leave in the steamer for about 1 min for the kueh to set.
A nice breakfast or tea-time snack for those who love their coffee and anything made with coffee. For people like me, who are very sensitive to the effects of coffee, try not to have this too late in the day in case of sleepless night. It happened to me...so you have been warned! :)
Next up, I shall be experimenting with another special huat kueh flavour to commemorate 10,000 views for my blog, maybe during the weekend. Something sweet to thank the readers for their support. Stay tuned!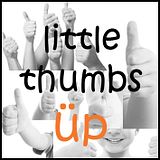 This post is linked to the event, Little Thumbs Up organised by
Bake for Happy Kids
and
My Little Favourite DIY
, and hosted by Diana from the
Domestic Goddess Wannabe