Went grocery-shopping during the National Day weekend and saw these juicy dried apricots. Now if you know me well, you will know that I don't fancy taking dried apricots on its own. But my children love it the moment my mum introduce this snack to them.
Having said that, I'm ok when it is cooked/baked with other ingredients. So I decided to buy some apricots for my children 'cos it's really a nutritious snack, packed with many benefits.
Apricots are available both fresh and dried form and are equally nutritious in their content. Apricots are a rich source of antioxidants which are essential in aiding the body's natural functioning.
So I was thinking of what bread to bake today for tomorrow's breakfast and the idea of using the apricots that I bought came to me. I was dicing the apricots when my son came into the kitchen and asked what I was doing. When I explained that I was dicing the apricots for bread, my son gave me a hug to thank me and promptly went to announce to everyone the new bread that I was making. Aw....
This recipe is very similar to my Honey Oats Milk Loaf that I did last week, with some slight modifications.
Results - Soft, sweet bread with refreshing fruity taste. The apricot bits and rolled oats gave the bread some texture. Mmmm....taste good, feel good.
Looking forward to the kids' verdict in the morning.
Here's the recipe...
Apricot Oats Milk Loaf (Makes a 450g loaf)
Using Donlim Bread Maker
220g bread flour
30g cake flour
75g dried apricots, diced
30g rolled oats
30g butter
5g instant yeast
100ml full cream milk
2 tbsp milk powder
2 tbsp honey
1/8 tsp salt
1 egg
Directions
First put the milk, egg and honey into the bread machine container.
Add in the rolled oats, milk powder and flour, making sure they cover the wet area completely. In the centre of the flour pile, make a small well and add the yeast.
Set the bread machine to menu function 1 (white bread function) and set the loaf weight and how well you want the bread to be. In my case, I selected 450g loaf and medium done on my bread. This whole cycle takes about 2 hours and 53 mins.
After 5 mins into the cycle, add in the butter and the salt.
After about 10 - 15 mins into the cycle (timing may differ with other brands of bread machine), the machine will beep for you to add any nuts or other ingredients to the dough. Add the dried apricots in at this point.
When bread is done, transfer the container to cooling rack, inverted. When cooled, remove loaf from container. Sliced loaf to thickness as desired.
Hope you will enjoy this bread!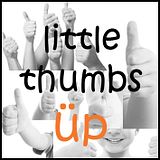 This post is linked to the event, Little Thumbs Up organised by
Bake for Happy Kids
and
My Little Favourite DIY
, and hosted by Diana from the
Domestic Goddess Wannabe