Ever since I started using my new bread machine, I have been racking my brains to try to come up with creative, new flavors that will impress my kids and erm....the hub. When I announced to the hub that I was going to buy the equipment to "help lighten my load" and bring healthier food to the table, he was skeptical and predicted that it would be another white elephant. I was so determined to prove him wrong!
Fast forward to a few loaves later, the hub is seriously impressed and looks forward to my weekly loaves of bread. Of course, that has a consequences as it would mean I have to constantly try new flavours so that we have more variety (as promised by me.... >_< ) Ah...the woes of a home cook!
This black sesame bread loaf was one of those experiment that I did and I was pleasantly surprised by the outcome. Sweet but not overpowering taste of the black sesame and the bread was soft and moist even till the next day! Even my elder son, who do not like to eat anything black sesame, took a taste and declared it nice! Such great compliments from him and it really made my day!
This bread is not overly intense in flavor and is nutritious as sesame has many known nutritional benefits like cholesterol-lowering effects, prevent high blood pressure, protect liver from oxidative damages, supports vascular and respiratory health etc. So let's introduce more sesame to our diets for a healthier lifestyle!
Here's the recipe...
Black Sesame Bread Loaf (Makes a 450g loaf)
Using Donlim Bread Maker
100ml full cream milk
1 egg (medium)
30g butter
50g raw sugar (castor sugar can also be used)
3g salt
15g milk powder
250g bread flour
30g black sesame powder (I used the black sesame drink powder from Taiwan - found in cold storage)
4g yeast
Directions
In the bread machine container, add the ingredients in the order stated above, making sure that the salt is at one end of the container and the sugar is on another end.
After adding the dry ingredients, make a well in the flour pile and add the yeast.
Using menu function 1 (standard white bread function), choose the loaf weight and how well you want the crust to be. In my case, I select 450g loaf with medium done crust. This whole cycle of the loaf will take about close to 3 hours.
After the bread is done, transfer the container onto a cooling rack, inverted. When cooled, remove bread from container. Sliced to thickness as desired.
The bread is nice enough to be eaten on its own, especially when it's fresh out from the bread machine. However, you might like to spread on some butter or cream cheese spread and it will taste just as wonderful!
Hope you will enjoy this recipe!
Happy bread-making!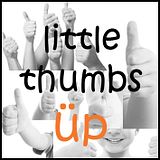 This post is linked to the event, Little Thumbs Up organised by
Bake for Happy Kids
and
My Little Favourite DIY
, and hosted by Diana from the
Domestic Goddess Wannabe